More Ebay Items
Emergency Home Decoration Kit
The perfect item for all men who have a partner at home always reminding them that this room or the other needs decorating and that it's time they got around to doing something about it, especially when it always seems to happen just as you're becoming absorbed in your favourite TV documentary, or when you're planning to get down to some really serious reading and study of those essential sports pages.
Watch her reaction as you produce my 'Home Decoration Anti-nagging Kit' which contains cuttings of 3 or 4 different patterns of wallpaper and a selection of paint shade colour charts, and tell her that you've been spending some time working out what could be the best scheme for whatever room is under discussion. The Kit also comes in a clear bag that can be left in any strategic position around the house ready to be easily found or spotted to provoke a discussion that will enable you to puff up proudly and state, with authority, that you're on the case and ready to move. Proven in practice and guaranteed to get you off the hook - a real winner!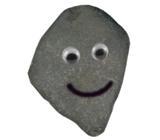 Pebble Pal
Lonely? Fed up with people not listening to you or interrupting you when you talk? - With your own Pebble Pal, you'll have the perfect friend when you need one - always in agreement with you, always ready to listen and always prepared to share your problems in total confidence with the absolute guarantee that your most secret thoughts and opinions will never be disclosed to anyone. Pebble Pal is happy to go with you anywhere - on walks, on days out, on holiday or can even be left behind without any fear of argument. Every Pebble Pal comes with a set of instructions to help you ensure that they settle in quickly, and your first task will be to name your new friend - how about Rocky or Cliff for example - and remember, Pebble Pal needs no feeding or drinking, just a friendly hello and a chat now again - with Pebble Pal, you won't go stony broke!
Insomniacs Inflatable Sheep
Lonely at night? can't sleep? worried about something or need to relax? Well, no worries! - with this item, Peggy the inflatable sheep is on hand to help you get through the night and stimulate the start of that badly needed sleep pattern. With a random selection of numbers and mathematical symbols on her side, Peggy is the literal 'counting sheep' and you can calculate away to your hearts content as you slowly begin to relax, gradually falling asleep in the time honoured and traditional way.